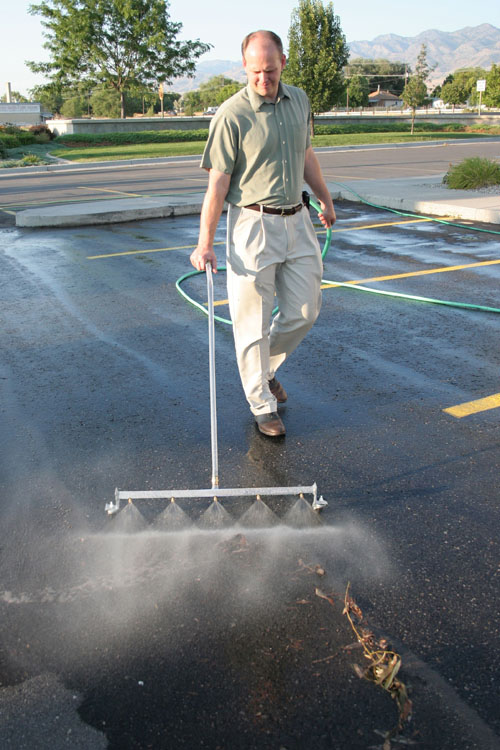 Saves You Time, Labor, Water & Money.

– Cleans up to 500 square feet per minute.
– Operates using an ordinary garden hose.
– Built of heavy duty steel.
– One Year Full Money Back Guarantee
Only $159.95 with
FREE shipping!
Don't delay!
Hurry & Order Today!
The WATERSWEEPER Water Broom saves you time & labor as it thoroughly cleans up to 8 times faster than a handheld spray nozzle or a pressure washer. It can also clean up to 6 times faster than a push broom, which raises a lot of dust & will not clean out cracks & crevices in the surface.  The WATERSWEEPER cleans them quickly & easily with its high speed venturi effect nozzles.

The WATERSWEEPER uses only about 1/8 the amount of water used by a water-wasting spray nozzle or pressure washer. This allows the cleaned area to dry quickly, usually within minutes, which reduces urban runoff. It effectively uses only about 1 gallon of water per minute, whereas other methods use an average of about 8 gallons per minute!

The WATERSWEEPER saves you money.  If you have an employee using a WATERSWEEPER, they'll be able to spend only about 1/8th of the time than they would spend with most other methods, saving you money in wages.

Areas that now take you or your employees hours to clean, will take you only minutes to clean.  It cleans sidewalks, driveways, garage floors, parking lots, tennis courts, patios, pool decks, curbs & more. The WATERSWEEPER is designed to blast away dirt, leaves, dust, sand, food & beverage spills, bird & small animal droppings, pop cans, sticks, cigarette butts, small pebbles, pollen, even light mud from concrete, asphalt, or any other open, hard surface area of up to several thousand square feet, indoors or outdoors.  Also, it does NOT harm concrete, asphalt, floor finishes, court coatings, deck stain or any other surface.

The WATERSWEEPER produces a strong, even, 3 foot wide line of water at a consistent height for maximum cleaning power. With it's lightweight, ergonomic design, it is easy to push, turn & maneuver for easy, one-handed operation by people of all ages & heights. It attaches to any standard garden hose operating on municipal water pressure. It works with pressure up to 160 PSI.   It can even accommodate hot water if you wish. No high pressure water or air systems of any kind are required to use the WATERSWEEPER.

Built entirely of heavy duty galvanized & powder coated steel, it is designed to take rough treatment. It is much stronger than plastic, PVC, or even aluminum water brooms. It is 34″ wide, 38″ high at the handle, & weighs only eight pounds. It has easy rolling, full swiveling, 2″ diameter caster wheels. It has 5 threaded brass nozzles, a brass hose connector & a 1/4 turn brass ball valve, giving you total water control. Since it has so few moving parts, upkeep is almost nonexistent, giving you many years of trouble free service. Ask about our 5 year warranty on parts & labor!

The WATERSWEEPER is designed for commercial & heavy duty residential use. It is currently used by homeowners, restaurants, hotels, office buildings, apartment complexes, swimming pools, tennis courts, stores, motels, casinos & schools. It is also used by auto dealers, service stations, golf courses, hospitals, parking structures, construction sites & many others. We even have a WATERSWEEPER proudly serving aboard a major cruise ship, keeping her decks sparkling clean.